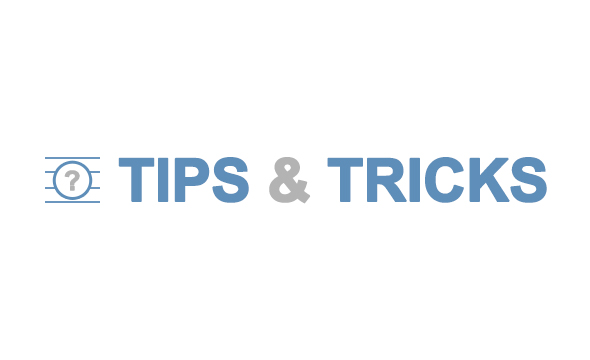 Since January 2012, approximately 350 'Tips and Tricks' subscribers from some 45 societies have already received the six first issues of the monthly 'T&T' e-mail.
As previously announced, we will provide a regular summary of the published 'T&T' in our digital newsletter. So, let's start this process with the six first topics, as more details will be available in the archives and in FastTools Public Library for users who have access rights to FastTools (http://fasttools.fasttrackdcn.net).
N°1 – Sanitized Title Search (available from the search options), a search on work titles that contain non-alphabetical and non-numeric characters such as double blank spaces, apostrophes, hash marks, quotation marks, ampersands, etc. This option, in certain cases, allows for the return of more results to your query.
N° 2 – The use of 'Wildcard' as a search option (Wildcards-enabled checkbox in search frame): like blank pieces in Scrabble or jokers you can use in some card games where it stands for any card/piece. In terms of search, a wildcard is a character or a symbol that can be substituted for either a single character or a string of characters when performing a search in CIS-Net. The question mark stands for exactly one character and the asterisk stands for none, one or a string of characters. This feature is very useful when you're trying to search for MWI or AVI work titles for which you don't know the exact wording. The wildcard gives you some flexibility in your search if you don't want to spend the time searching for all possible variations.
N° 3 – 'AP' (Agreements Party) information available from the MWI results page. This information is important if you deal with Agreements and sub-publishing information in your daily operations. It shows which creators, publishers and sub-publishers are connected through publishing agreements. For the sub-publishers, it also indicates the type of publishing agreement that exists with the Original Publisher. However, be advised that this information in only available on the following nodes, which are currently providing agreements information: GEMA, SABAM, SACEM and SOCAN.
N° 4 – The 'Scheduled Maintenance Facility' available from CIS-Net Home Page. This facility gives database administrators the ability to directly notify CIS-Net users about upcoming recurring and one-time maintenance periods that will prevent users from searching those databases. It is recommended that as soon as you access CIS-Net, you should take a glance at the network status to check if all nodes/databases are available prior to any search in CIS-Net.
N° 5 – The 'Mark for Comparison' facility allowing the side-by-side comparison of two works from the results page. This feature allows checking where there are some differences between the two selected works. It's very useful, especially when your request returns several pages of results, preventing you from navigating among results pages, which can take some (precious) time!
N° 6 – The various options of the results view available from the search frame options. The four following options are proposed:
The default view providing results including a combination of IP Names and Performers information under 'Interested Party' section;
The IP Details view gives IP Name information only;
The IP Sum. View provides summarized IP information (name only);
Perfs. Only view displays a summarized line containing Performers names only.
Our next step will be to publish the 'T&T' on the CIS-Net Home Page, at the location where you currently can find the Service Messages and Scheduled Maintenance information.
If you or one of your colleagues wish to subscribe to the upcoming monthly issues, send an e-mail to tips@fasttrackdcn.net and enter SUBSCRIBE in the subject line.
Share your tips with the CIS-Net community of users! Please send an e-mail to tricks@fasttrackdcn.net and we will do our best to publish your trick in the near future.
---
«
Back to Home