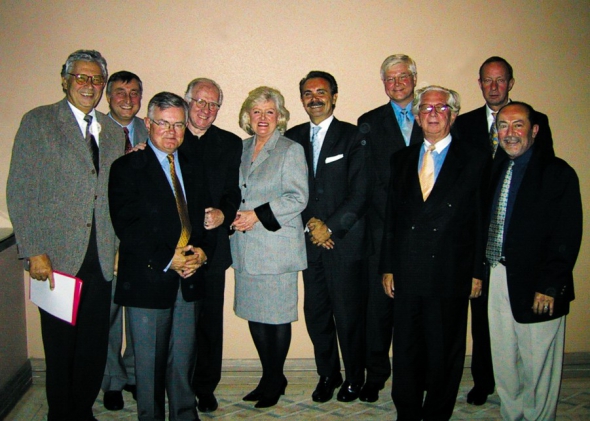 Music industry pioneer Frances Williams Preston died peacefully of congestive heart failure on Wednesday, June 13 at her home in Nashville. Preston served as President and CEO of BMI from 1986 until 2004 and was instrumental in the founding of FastTrack, serving as Chairperson of the FastTrack Board of Directors from 2001 through 2007.
A commanding executive gifted with a peerless combination of business savvy and steadying grace, Preston had a great influence on many facets of the music industry. She nurtured the careers of thousands of songwriters, performers and publishers in all musical genres during her career at BMI, which spanned six decades.
During Preston's tenure as head of the FastTrack Board of Directors, the organization became the global player it is today. Because of her tireless efforts, the number of shareholders increased to its present 12; at the same time, the FastTrack initiative now known as 'CIS-Net powered by FastTrack' became a vital tool in the daily back-office operations of more than 100 societies worldwide.
During her tenure as New York-based President and CEO of BMI, Preston successfully led the efforts to build BMI's repertoire into the most popular and diverse music catalog in the world. Royalty payments increased steadily to BMI's writer and publisher members, with revenues ultimately tripling under her leadership. Recognized around the world as a vigilant defender of the rights of music creators, for three years upon retiring she consulted BMI on the company's international relationships and its public policy agenda.
Over the years, Preston has received top awards from both the creative and business communities, including a National Trustees Award from the Recording Academy (the highest Grammy prize for a non-performer), and MIDEM's Person of the Year accolade in 1999 (the highest international award accorded to a music industry executive.
A devout humanitarian and longtime community volunteer, Preston championed many causes, and became especially active in her role as president of the T. J. Martell Foundation for Leukemia, Cancer and AIDS Research, the music industry's largest charity. She is the namesake of the Frances Williams Preston Research Laboratories at Vanderbilt-Ingram Cancer Center.
Photo: The inaugural meeting of the FastTrack Board of Directors took place in Santiago, Chile in September of 2000. Pictured at the meeting are Board and Executive Committee members (l-r): SACEM President Jean Loup Tournier, SGAE GM Enrique Loras, SACEM Sr. VP Claude Gaillard, SGAE CEO Eduardo Bautista, BMI President/CEO Frances W. Preston, SIAE Commissioner Professor Mauro Masi, FastTrack Managing Director Chris van Houten, GEMA President Professor Dr. Reinhold Kreile, GEMA Deputy Managing Director Professor Jürgen Becker, and BMI Senior Vice President Bob Barone.
---
«
Back to Home