2015-11-10
CIS-Net Release
A New Framework for CIS-Net in the Pipeline for 2016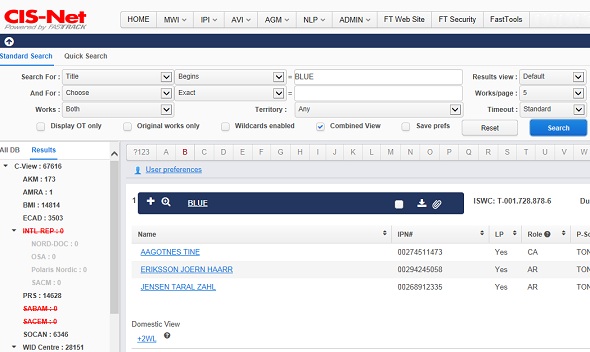 « CIS-Net powered by FastTrack » has 4.000 users worldwide. Heavy users of CIS-Net can spend hours daily browsing through its pages, seeking for information, downloading, comparing, matching musical works, shares or information related to interested parties. So every single step we take that changes the usability of CIS–Net never goes unnoticed.
For many years, CIS-Net has used underlying technologies, so-called frameworks, to facilitate its management and to streamline its technical development for us at FastTrack. These frameworks, like anything related to information technology, have their own life cycles and obsolescence patterns. And the keystone of these frameworks is security.
Now has come the time for CIS-Net to undergo a technical evolution to be in a position to respond to the challenges of the future in a secured, robust and user-friendly manner. The next version of CIS-Net will see a few changes happen, and a tremendous evolution of its underlying framework, which will not only affect its internal infrastructure but also will touch the surface and its graphical user interface, the so-called GUI. The former makes practically no difference to the end-users, the latter will have a great impact on our users experience.
At the last FastTrack days in Paris, a first preview of this refreshed user interface was presented and praised by the attendance. We're very excited to bring these new ergonomics first to our project team then to our key-testers and to the expert groups at CISAC and finally to our entire user base.
The project will extend into 2016 and upcoming releases of CIS-Net will show these interface improvements. These ameliorations will enhance the readability of the User Interface (UI), make a better use of the space available on the screen, allow for dynamic content display, provide multiple selection of columns and fields, advanced user preferences, enhanced sorting of results, better download options and many more.
Yet the spirit will remain and there will be no change in the functionality or the business logic in order to keep the adoption curve of our users as low as possible and to avoid additional training efforts.
Didier Roy, Technical Director
---
«
Back to Home